This simple, fun and powerful practice, helps me launch into the New Year with greater enthusiasm, curiosity and excitement about the year ahead.
I call it the 'Happy Highlights of ……..(last year)' exercise.
The past year, for many of us, has likely had many challenges and moments of regret, missed opportunities, loss, 'failure', and all the painful emotions that accompany these experiences.
The 'Happy Highlights' exercise allows us to reflect on all the happy, fun, meaningful, successful moments of the past year, as well as the lessons that came from challenges. Plus all the things and people we're grateful for.
It's up to you how you'd like to do this.
One way I like to do this is, to look through my photos from last year and choose ones that have meaningful memories for me.  My husband looks through his photos and does the same and then we combine them to make a little slide show.  And we take a moment to enjoy this together. (this part of the practice was inspired by Tony Robins)
My favorite way to capture the past year is to make a digital collage of some/all of these photos, instead of/or as well as, a video.  You could even get this printed every year and start a 'Happy Highlights' collection that you can look back on.
Not all significant moments will have been captured by photo. To capture these I like to use a 'mind map' design. I keep it simple.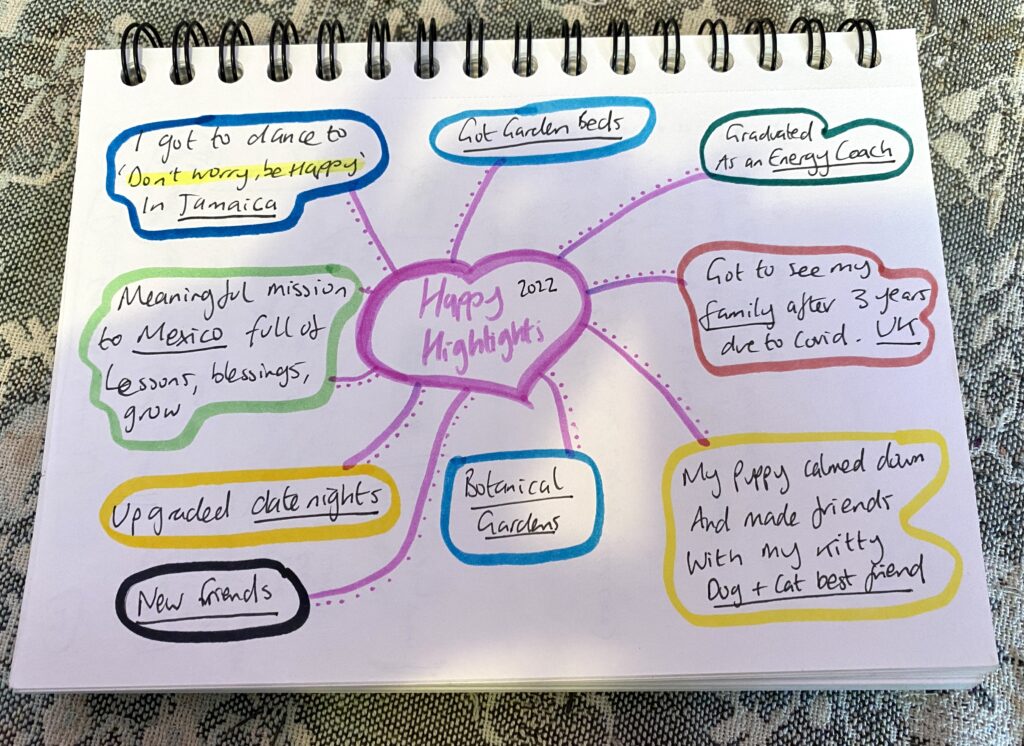 I'd love to hear if you do try any of these, how it was for you or how you usually bring the good from the past year into the new year.
Cheers to many Happy Moments.