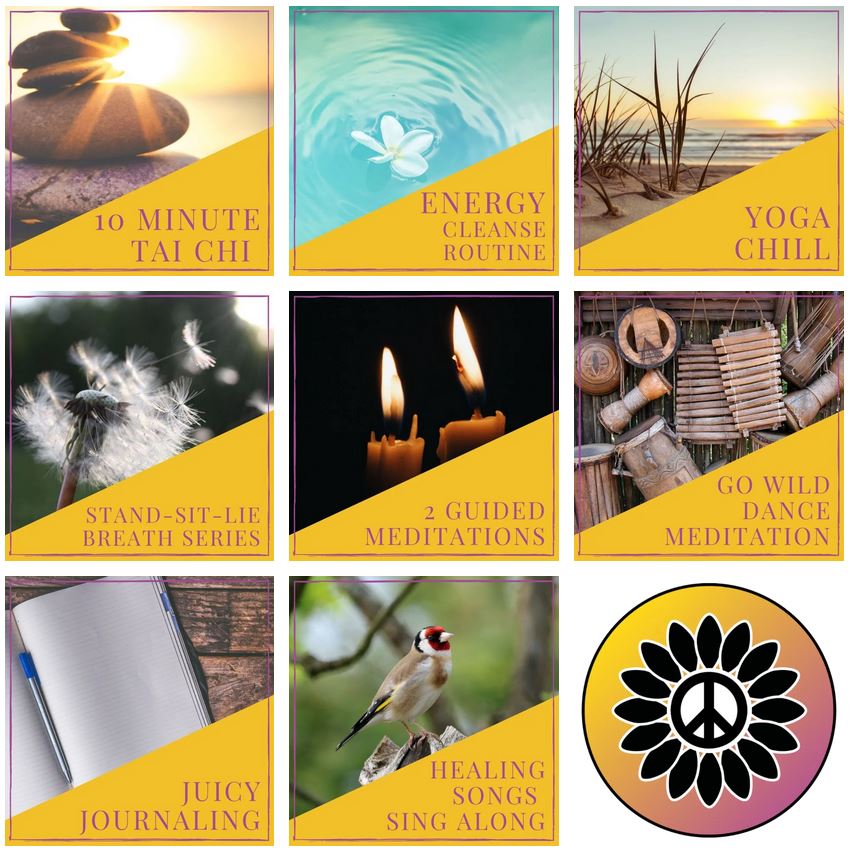 10 Minute Tai Chi
This short and sweet Capacitor Tai Chi sequence that you can learn and practice anywhere-anytime, can help you ground and re-connect.  It can help empower you to engage with your own healing process and give you a deeper experience of our interconnectedness with our world and our fellow creatures and human beings. Personally I enjoy doing this sequence on my lunch break.
Yoga Chill

This is a simple, yet highly effect, gentle, cosy yoga sequence that will ensure you get the deep rest and relaxation your nervous system needs for you to thrive. Practice this whenever you feel the need to rest and recharge or add it to your morning or evening routine for a great start to your day or a more restful sleep.
Energy Cleanse Routine
An effective practice to release any negative energy you may be holding onto and cleanse your auric field so you are less likely to take on or be consumed by other people's energy fields. You can use this technique as part of your morning/evening routine or before and/or after you are surrounded by and affected by large crowds of people.
The Stand-Sit-Lie Breath Series
These conscious breathing techniques can help reduce stress and anxiety and bring you a greater sense of peace.  This video series teaches you three simple ways you can use your breath to soothe yourself, sitting, standing and lying down.  You can use either of these in times of distress and I recommend taking a moment throughout your day to engage in one of these techniques.  Maybe set an alarm to remind yourself to do this. This alone can have tremendous effects on your well-being.
Two Guided Mediations
Affirming Our Place Meditation – A guided practice I created to help you balance your spiritual centers and affirm your place and your path.
The Sound of Colour Meditation – A guided practice that invites the healing properties of sound and colour to cleanse you.
Plus more on meditation, which includes the basics, the benefits and some guidance on self-guided practices.
Go Wild Dance Journey
A free-form dance mediation, an opportunity for an ultimate release and a great way to get back into your body and explore your smooth moves.  Shake off anything that needs to go and delight in the music and dance.  Friday night fun?  Saturday morning shake off? Or practice whenever you're in need or in the mood for a good old boogie or release.
This includes a hand-picked dance mix from my favourite artists and healing music from around the globe.
Healing Songs Sing Along
Five simple and easy to learn songs you can sing to yourselves, to comfort yourselves in times of struggle or to sing just for fun.  These songs lead us home to the heart and back to joy.
This includes a sing-along video, and a downloadable song lyrics.
Juicy Journaling
This video training will get you started or deepen you practice with journaling, an amazing way to get 'stuff' off your chest, discover hidden truths about yourself, heal and hear your soul speak. I highly recommend participating in journaling every morning as you rise and every evening before you go to sleep.
BONUS Jolly Mood Food Recipes

This includes three of my favourite recipes. You're in for a treat…  I've tailored these recipes to ensure they contain mood boasting foods that are nutritious and delicious. Recipes are taught in a short and sweet video format for your convenience.
BONUS Wee Wellness Planner

Your ready made planner so you can get rolling with these practices that nourish body, mind and spirit!