What edible plants are growing in your backyard or in your neighbourhood right now? In this post I wanna share with you the delicious, nutritious spring snacks that are abundantly growing in my yard and how I use them to jazz up my meals and drinks. And share with you a couple of recipes I made from my latest wild yard harvest!
Dandelions!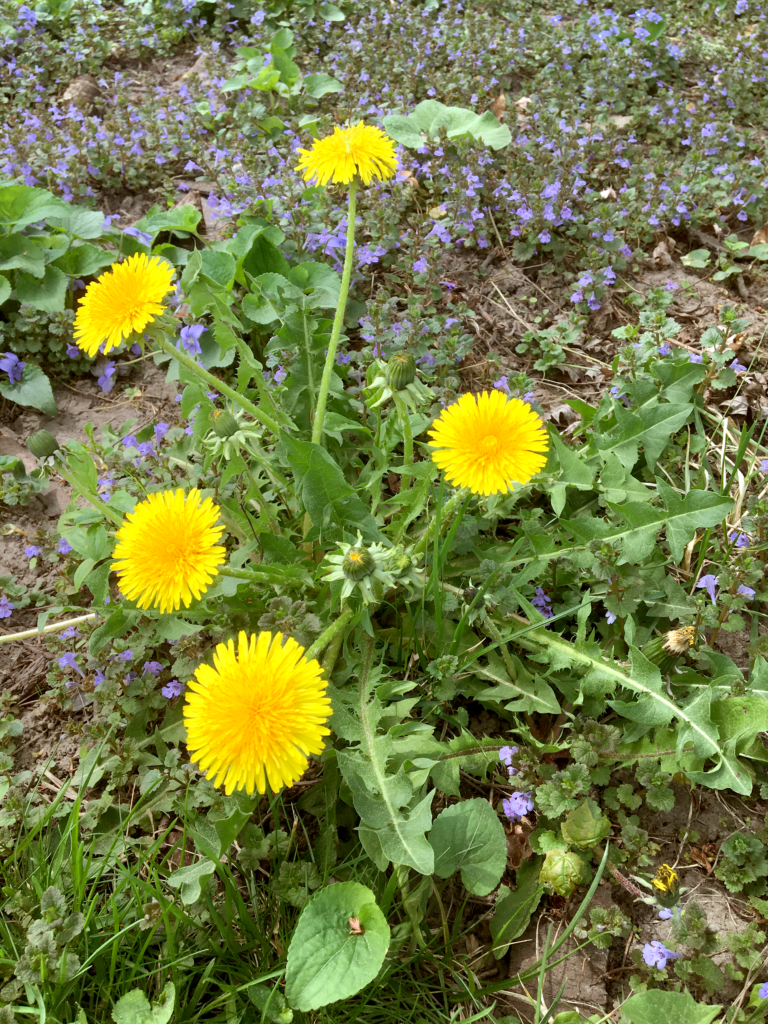 They're everywhere right now and you can eat nearly all parts of this cheery plant, the roots, the leaves and the flower petals… Plus they are a super dense in nutrients. They're full of vitamins and antioxidants, and are known to be excellent blood and liver detoxifiers.
I like to make a big batch of dandelion tea and store it in my fridge, and either drink it cold or heat it back up later. But my favourite way to use it is to add dandelion tea to my smoothies!
Try this!
Dandelion Berry Smoothie
1.5 litres of water
¼ cup of dandelion roots
1 large or 2 small apples of choice, diced
1 cup of your favourite berries
5 dried prunes
Dandelion flower heads for garnish and sweetness
Honey or sweetener of choice
---
To make Dandelion Tea…
Approx. ¼ cup of dandelion roots
1.5 litres of water
Honey or sweetener of choice
Harvest the roots of a few plants.
Wash roots well and chop em up into 1 inch slices.
Boil the water then remove from heat.
Steep the roots in the water for 5 minutes, cover with lid.
Remove/strain out the roots.
Add sweetener to taste.
---
To make Smoothie…
Add the tea and remaining ingredients to a high speed blender and buzz up really well.
Add more sweetener if required.
Serve up, garnish with a flower head or two. Enjoy!
Store the rest in the fridge for later and re-heat or drink cold throughout the day.
Dandelion leaves…
I use the small young leaves around the centre of the stem raw in salads. I also use them like I would spinach or kale. They tend to be bitter so boil them up for 5 minutes in water then sautee them in oil for a more pleasant flavour. They are really good on pizza and pasta, and in stir-fries and stews, everywhere! (see Wild Spring Green Pesto recipe below).
Dandelion flower heads and petals…
Add a pretty touch to almost any meal with a whole flower head or remove the petals and sprinkle them over a meal as a garnish.
Try adding some petals to you baking goods! Ie. Add the petals to your cookie dough!
Nettles!
These stinging greens are also full of beneficial nutrients including essential amino acids, minerals, vitamins and so much more. They are known to reduce inflammation and soothe allergies, and have a whole host more health benefits. The roots, stems and leaves are all edible.
Harvest these plants with gloves on and do not eat them raw!
Violets!
These adorable little flowers come in a variety of colours and are the perfect garnish for any meal. They have a mild, subtle and enjoyable flavour. You can eat the flowers and the leaves. They contain high levels of vitamin A and C. Some say all species are edible and others say the yellow ones are not.
Like the dandelion leaves you can eat them raw in salads or use them like you would kale or spinach, I like to mix them with other greens. Again like most edible leaves the younger ones are less tough and tastier!
*The flowers wilt quickly so wait till the last minute before harvesting them.
Try this!
Wild Spring Green Pesto
3 cups of blanched wild greens leaves (nettles, dandelion leaves and violet leaves)
1 cup of walnuts
2-3 cloves of garlic
3 tsps. Olive oil
Pinch of Salt and pepper
2 tbsp. lemon juice
3 tbsp. of nutritional yeast OR grated hard cheese
2 tbsp. water (and more as needed)
Violet flowers for garnish
---
Wearing gloves remove nettle leaves from their stems.
Gather all greens together and wash them.
Blanch the wild greens for 5 minutes in salted boiling water, and then transfer them to a bowl of cold water for a minute.
Drain most of the water from the greens and add them to a food processor.
Add all other ingredients and pulse a few times until you get your required consistency adding more water if need be.
Garnish with violet flowers!
Put it on your toast or sandwich, add it to your pasta, use it as a dip… Enjoy!
Get Involved!
Do share what spring snacks are hanging out in your yard and how you love to eat them….
Authors Note: The content in this post is provided for general informational purposes only. Be careful as many wild plants can be poisonous, and poisonous plants sometimes look very similar to edible plants which often grow side by side. It is the responsibility of the reader to correctly identify and use the edible plants described. The author does not guarantee the accuracy of the content provided in this post and is not liable for any injury resulting from use of any information provided.

This post is not intended as medical advice. Always consult a professional healthcare provider beforehand. The use of wild plants can be toxic if misused, and even when suitably used, certain individuals could have adverse reactions.